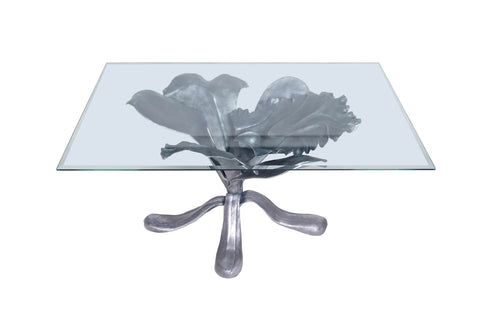 "Orchid Table"
$ 9,000.00
Limited Edition Bronze by Robin Richerson
Bronze, pictured with silver patina. Available in traditional bronze patinas. This table base was designed to use with a glass top so that the feathery edges of the orchid can be seen through the glass. Leaves flow down to form the legs of the table which enclose roller balls to facilitate the moving of the table. Orchid table base weighs approximately 285 pounds and can support a glass top up to 4' x 6' in size. The base is 42" x 24" and makes a 30" tall glass top table. This table would be a show piece for any home.
PLEASE NOTE:  Glass top is not included
This sculpture is "Made to Order" and requires a 50% deposit at time of order. Please contact Matt Palmer at matt@iconartworks.com regarding delivery schedule and with any questions you may have.